Last round of Grantham Grand Prix brought a number of amazing results
by 
Maciej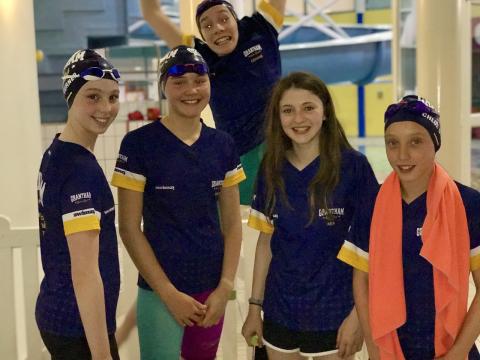 Connie Philips is determined to make Nationals this year.
In 50 butterfly Connie swam the second fastest time in her British age group ranking, set a new club record and also a new County record which was set by our super-fast former-swimmer, Freya Colbert.Callum
Melville also broke 50 free club record in amazing style. Callums's time puts him to fourth place among 12 years old boys in Britain!
Billy Reed showed great sportsmanship and competed well in the last round of Grand Prix, knowing that he wouldn't be able to win the series due to an injury which made him miss 2 rounds. Billy still managed to shatter the 200 IM club record with the fastest time achieved this year in Lincolnshire.
n 50 butterfly Cora Farley swam an amazing race (executing a perfect "magic 3") and achieved over 5 seconds personal best time and fastest time in the County! Millie Bailey smashed it too dropping 6 seconds and moving up to third place in Lincolnshire. Jessica McMahon impressed all with a stunning 16 seconds improvement, Sophie Leveridge by 6 seconds and Hannah Dobney by over 10 seconds! Excellent!Zach Hopkinson improved the most from all the boys in 50 free shaving off nearly 4 seconds.
Well done Zach!
In 50 backstroke we witnessed great sport rivalry between Evie Turner who came first with 5th fastest time in Britain and Connie Philips who came second with 8th time in the ranking. Great swims were delivered also by Ava Reed (2 seconds off), Jessica McMahon (stunning 6 seconds off) and Hannah Dobney (nearly 4 seconds off).Sam Leveridge and James Nichols both clocked very impressive times in 50 breastroke and improvement by over 2 seconds.
Sam has moved up now to 5th place in our County ranking and James moved up to 2nd. Nice!In 200 IM our older boys made some massive progress and scored lots of Grand Prix points. Callum Melville improved by nearly 4 seconds (4th fastest time in Britain), Sam Leveridge by 5 seconds (3rd fastest time in County), Thomas Thornton by 8 seconds (5th time in County), Logan Melville by 10 seconds (6th time in County), Elijah Halliday by 4 seconds and William Gray by nearly 13 seconds! Younger boys swam 100 IM and did also very well. Max Kowalski bettered his time by 3 seconds (3rd fastest time in County), James Nichols by 2 seconds (2nd fastest time in County) and Zach Hopkinson by 4 seconds (3rd fastest time in County). Well done boys!
In 200 free the girls swam strong too. Alex Theobald had a cracking race with over 8 seconds PB. Cora Farley bettered her old time by nearly 10 seconds which gave her lead in the County ranking by an enormous 18 seconds!
Hannah Dobney and Jessica McMahon both smashed their previous times by about 20 seconds! Emily Parkins and Francesca Hallam-Stott fought well against each other and both clocked solid 3 seconds improvement and Emily now holds the 5th fastest time in the County.
Excellent girls!
Congratulations to Callum Melville for setting 2 new Grand Prix records in 50 free and 50 breastroke, Evie Turner in 50 backstroke Connie Philips in 50 fly and Billy Reed in 200 IM.In the final standing of Grand Prix for 12 years old girls Connie Philips finished second, Chloe Daybell, Chloe Hopkinson and Evie Turner came third, fourth and fifth accordingly.
In this age group Callum Melville finished first, Cade Deaves third, Vadims Molcanovs fifth and Billy Reed sixth.Among the 11 years old boys Sam Leveridge made the top of the podium.
Grace Turner was second in the 10 years old girls. In the same age group Josh Clarke came first ahead of Thomas Thornton (third), Logan Melville (fourth), Oliver Bailey (fifth) and Elijah Halliday (sixth).In the youngest category Max Kowalski came first and James Nichols fifth.